Batanes island hopping, a real adventure you shouldn't miss!
When in Batanes, one thing you should do is to go island hopping by arranging boat tours with local guides. There are 10 islands and I think it would be a shame if you didn't see them all. Just be sure to bring medicine to counter dizziness and sea sickness as the waves can get pretty rough.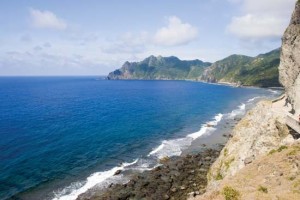 Itbayat Island. You should visit the island of Itbayat for the Torongan Burial Caves, where more than 4,000 year-old the remains of the ancient Austronesians were found.
Batan Island. When you're in Batan Island, go to Vayang, an easily accessible part of the island with a spectacular view of the sea, probably one of the best places to see sunrises and sunsets when on the island.
Mt. Iraya. You can also go to Mt. Iraya, a 1900-foot mountain in Batan which is perfect for mountaineers and hikers. Rich in flora and fauna, a trek up the mountain is a great experience for travelers, just be sure to bring some cold weather gear and choose a day when it doesn't look like it's going to rain.
Other Batanes travel destinations
Apart from Batanes island hopping, you can visit natural travel destinations in Batanes.
During the summer months (March to May) you can also visit the island beaches of Disvayangan, Song-song, Nakabuang, Chadpidan, and White beach.
There's also the Tayid Lighthouse in Batan.
There's also the Sto. Domingo Cathedral, built in the 18th century by the Spanish missionaries and one of the first cathedrals in the country to have used GI sheets as roof material.
If you're feeling adventurous, you can visit the Dipnaysupuan Tunnels constructed by the Japanese during the Second World War.
Visit Rakuh-A-Payaman, also known as "Marlboro Country" because of its pasture-like appearance.
A trip to Batanes is something you should definitely consider if you're traveling to the Philippines. Its captivating natural scenery, its unique culture and architecture,its amazing weather, and the great people will surely win you over.
With Basco as your home base, get your camera, walking shoes, jacket and smile ready and you're good to go.
Try staying for 3 – 7 days just to make sure you get your money's worth for the airfare, you won't regret your visit to this yet undiscovered jewel of the Philippine islands. Make Batanes your next travel destination.