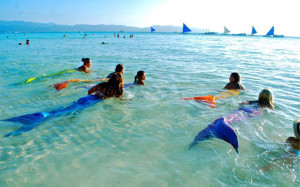 Flash News: Mermaids in Boracay sighted!
Oh, I wish to see mermaids! And the good news – Boracay is just a plane ride away for you and me to discover this sighting. Boracay is now more fun for family vacations. Young girls will certainly enjoy swimming in the white sand beaches in Boracay. Another thrilling attraction in Boracay is the mermaid swimming lessons being offered by the Philippine Mermaid Swimming Academy (PMSA).
An issue in Boracay Sun newspapers in January 2013 featured the genius, Normeth Preglo, who thought of this one-of-a-kind swimming adventure for Boracay tourists. For only one thousand five hundred pesos (Php 1500) for the swimming session, let your kids' dreams come true!
Here's an excerpt from Boracay Sun.
"The brainchild of self-confessed mermaid fanatic and longtime Boracay resident Normeth Preglo, who is still obsessed with her childhood dream and, to this day, still plays pretend as she appeared (not for the first time) as a mermaid last Halloween. While searching the internet for ideas for her mermaid costume, she stumbled upon several websites that featured "mermaid swimming". From mermaid personalities, mermaid sports such as "monofin racing" and exercises, and even mermaid performing arts, she was thrilled to find out that there is a thriving community of adults like herself that not only loved the idea of mermaids, but were actually living the dream.

She spent the next couple of days learning the art and sport of mermaid swimming, and as soon as she received the first shipment of mermaid tails, she gave them a "spin" in the Boracay EcoVillage swimming pool on Novemeber 1st. She decided to call it the Philippine Mermaid Swimming Academy (PMSA) because, as the country's pioneer, she wanted the name to reflect her vision of creating a mermaid community , and not just a passing trend. Since that date, the PMSA has not only gained a cult following of wanna-be-mermaids, their classes have been fully booked, with a waiting list of people eager to get into mermaid fins and to swim in Boracay's crystal waters as a siren. As their tagline says, "Let us make your fantasy com true a escape into the mysterious mythical world of mermaids."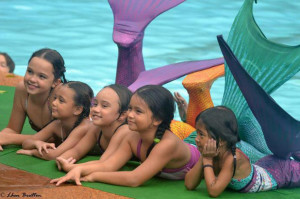 The swimming lesson is generally a hit among female swimming enthusiasts. However, the PMSA noted some curious inquiries from males, too.
So enjoy the heat and spin your tails and dive into the clear Boracay beach.