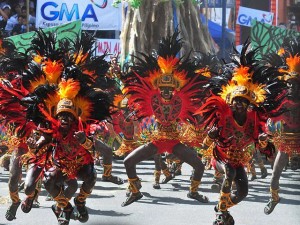 The Iloilo Dinagyang Festival is held every year and presents a very colorful parade accompanied by a dramatization honoring the patron saint of Sto. Niño. Ilonggos believe that Señor Sto. Niño provides miracles especially during times of famine and drought.
The whole town rejoices mainly in the streets of Iloilo city which is characterized by the sounds of drums and shouting of the people with "Viva Senor Santo Niño". The tribes such as the Aetas parading the streets are also made to shout the words "Hala Bira" repeatedly which makes the celebration very lively.
The Iloilo Dinagyang Festival is a cultural and religious celebration held every fourth weekend of January or right after the Sinulog Festival of Cebu and Ati-Atihan of Aklan to commemorate the Christianization of the natives. Tourists choose Iloilo as a travel destination to witness this spectacular religious event.
The Dinagyang Festival of Iloilo specifically honors the Santo Niño and celebrates the arrival of Malay settlers in Panay. The island was subsequently sold to the settlers by the Atis.
Iloilo Dinagyang holds the title of "Best Tourism Event" from 2006, 2007, and 2008 by the Philippine Association of Tourism.
A Roman Catholic priest named Rev. Fr. Ambrosio Galindez introduced to the locals the devotion to Santo Nino in November 1967 to signal the start of the Dinagyang. At first, the celebration of the feast was held only in the parish, but members of the Confradia del Santo Nino de Cebu, Iloilo Chapter, starting parading the original image of Santo Nino in the streets of Iloilo.
This pattern was repeated every year with the natives, whose bodies are covered with soot and ashes, dancing in the streets to celebrate the sale of Panay.
Dinagyang Events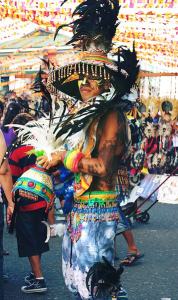 The Iloilo Dinagyang Festival is divided into three major events such as the Ati-Ati street dancing, Kasadyahan street dancing and the Miss Dinagyang contest.
The main part of the festival is the dancing of the tribes but no actual Ati has been involved.
Dinagyang has been voted to best tourism event among the Philippine festivals for three consecutive years starting from 2006, 2007, and 2008 by the Philippine Association of Tourism. The festival is even supported by the United Nations and is also cited by the Asian Development Bank the Best practice on government, the private sector and the NGO cooperatives.