Intramuros Manila … Walking on the very same steps of the national hero, Dr. Jose Rizal, is a nostalgic episode in my life every time I visit Intramuros Manila.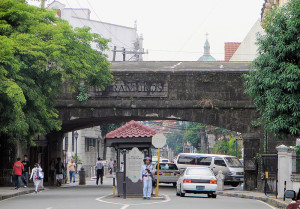 Intramuros is known as the oldest district of Manila, the capital city of the Philippines. It is considered core of the Philippine history. It is called the Walled City or the original fortified city of Manila serving as the seat of the government during the Spanish colonization of the Philippines. As you may have learned from World History class, we were under the Spanish rule for more than 300 years. It was during the Spanish regime that the defensive walls were built later in the 16th century to protect the city from foreign aggression. The walls of Intramuros follow the contours of Manila Bay and the curving banks of the Pasig River. The walls covered an area of 64 hectares of land.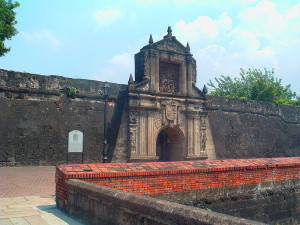 Fort Santiago is a place in Intramuros which served as the guarding frontier during World War II and strategically located at the mouth of the Pasig River.
Intramuros was heavily damaged during the recapture of the city of Manila by the Americans from the Japanese Imperial Army during World War II. In 1951, the damaged walls of Intramuros were reconstructed. At the same time it was declared a National Historical Monument. Intramuros was also named by the Global Heritage Fund as one of the 12 worldwide sites nearing irreparable loss due to lack of management and development.
Intramuros boasts of numerous old Spanish era structures and one of these structures is the Fort Santiago, now a park maintained by the local government of Manila. It is a famous Philippine travel destination.
Many reconstruction projects to preserve Intramuros Manila brought back the atmosphere of Spanish colonial period.
The reconstructed Maestranza wall located adjacent to Fort Santiago was repaired after the Americans removed it in 1903 due to a widening project to open the city to Pasig River.
Bastions such as the Santa Barbara bastion, Baluarte de San Miguel and Medio Baluarte de San Franscisco are provided in each corner of the triangular fort.
Intramuros is also the place where the oldest education institutions can be found. The Colegio de San Juan de Letran which was founded in 1620 is located in Intramuros together with Colegio de Santa Rosa, and the Manila High School.
Numerous old churches can also be found in Intramuros. The San Agustin church is the oldest building existing in Manila, and the Manila Cathedral which is the seat of the Roman Catholic archdiocese of Manila.
Around the area are various restaurants that offer fusion of Filipino and foreign dishes, although choices of Philippine food are mostly available. It's always a double treat for you – good food and good ambiance.
So when in Manila, enjoy having relaxed time visiting Intramuros Manila. Mark this place as your first destination during your travel.