Pangasinan Hundred Islands is the perfect destination for island hopping!
Pangasinan is a province located at the western side of the island of Luzon in the Philippines along the Lingayen Gulf and the South China Sea. Pangasinan has a total population of 2.8 million as of 2010.
There are a lot of Philippine travel destinations in Pangasinan province which occupy an area of Luzon known as the Rice Granary of the Philippines. One famous tourist attraction of the province known as well as the gateway to Northern Luzon is the Hundred Islands National Park where you can experience island hopping at its best.
The Hundred Islands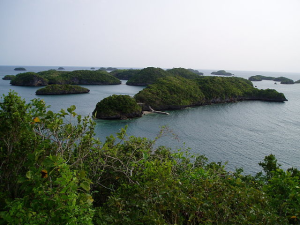 Pangasinan Hundred Islands is located in the town of Alaminos. The islands actual number is 124 during low tide and 123 at high tide. The islands are located at the Lingayen Gulf and cover an area of 18.44 square kilometers.
The Hundred Islands are about 200 years old and only three of these islands are developed for receiving tourists. These islands are the Quezon Island, the Governor Island and the Children's Island. The Hundred Islands are described as corals that reach inland. It is an area formerly known as the seabed of ancient body of water. Some of the islands are mushroom shapes due to the eroding movement of the ocean waves. Wildlife that can be seen in the Hundred Islands are the dugong, crab eating macaque, the monitor lizard, green sea turtle, a species of red turtle, gecko, common palm civet and many others. The white sand beaches of Bolinao, Dasol and San Fabian are also worth the visit.
Bangus (Milkfish) Festival
One famous festival celebrated in Pangasinan is the Bangus Festival or Milkfish Festival of Dagupan where hundreds of bangus are grilled along a road to be feasted by all the residents and visitors.
Pangasinan is also known for its very sweet mangoes and the Calasiao puto which is a ceramic-oven baked rice muffin.
Pangasinan is also famous for the Wonderful Cave, Cindy's Cave and Enchanted Cave in Bolinao, the Binmaley Blue-Green Museum Park near the Binmaley Blue-gray beach, Cape Bolinao lighthouse, Cacupangan Cave in Mabini, Rock Garden Resort, Mount Bulangao in Balungao, the Hundred Islands marine sanctuary, Bonuan Blue Beach in Dagupan to name a few.
How to get there
Pangasinan can be reached by bus from Manila through the North Expressway. Travel time by bus usually takes from 4 to 5 hours.