If you are searching for a quiet and secluded island to bask in nature, Potipot Island is a good choice. Potipot Island is among CNN's most Googled destinations in 2013.
Little Boracay of the North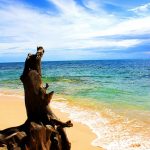 Potipot Island is also known as the Little Boracay of the North in Candelaria, Zambales. The highly acclaimed and recommended island features clear blue water, and almost fine white sand beaches minus the commercial establishments which provide an added attraction for enthusiasts to visit the island. The island is small such that you can walk through the entire place within an hour.
The island, although secluded, is reachable from many resorts. The more popular of which is the Potipot Gateway resort.
Potipot Gateway Resort
Potipot Gateway Resort is just four hours away from the capital city of Manila and is a first-class retreat place. It will captivate you with the fragrant smell of flowers in its garden, the outrageous presence of turkeys and peacocks, the comfortable eco-friendly solar powered roofs, beautifully designed cottages, and a wonderful restaurant named Savors.
Castaway Experience at Potipot Island
How do you survive on an island? Experience a vacation without the usual amenities that you can enjoy. Be a castaway or an island survivor at Potipot Island.
Visitors of Potipot island may enjoy staying overnight in this place but should make sure that the group brings necessities for spending the night or the whole day. Since the island has no commercial establishments, you might opt to bring a tent, a light source, anti-mosquito and insect repellent for skin protection, coal and matches, blankets and more important enough amount of food and water for an overnight stay.
Accommodations and Transportation
Hotel accommodations are available only on the mainland in Barangay Uacon.
You can have a 10-minute banca (boat) ride in the early morning going to the island and spend the whole day before the banca fetches you and travel back to the mainland. Other popular hotels in the area as starting points are Puerto Del Mar, Isla Vista, and Dawal beach resorts.