When you get to Bacolod City, be sure to try Bacolod food. Not only is it exceptionally good but also unbelievably affordable. Bacolod's sugar industry has made it a haven for people with a sweet tooth so you'll find amazing cakes, pastries, and snacks almost around every corner.
Bacolod's famous Chicken Inasal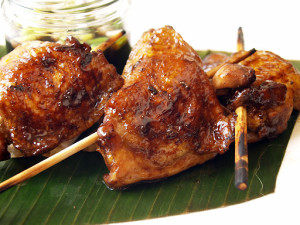 There is the famous Chicken Inasal (Grilled Chicken), one of Bacolod's most famous and tasty exports. The formula is basically marinating chicken in a mixture of soy sauce, calamansi (a local version of lemon) and ginger for hours. Then once the marinade has sunk in, the chicken is cooked over hot coals while more of the marinade is applied to make sure that the outside and the inside are moist and soft. A trip to Bacolod would not be complete if you didn't taste the Chicken Inasal, and once you try it I'm sure you'll come back for more.
Recommended restaurants
If you're looking for good places for Bacolod food, most people I've met highly recommend Imelda's Cuisine, Aboy's Restaurant, L'Fisher, and Mei Wei Seafood Restaurant. Imelda's is known for its American and European cuisine such as fillet mignon, buffalo wings, and southern fried shrimp while still offering a number tasty local delicacies.
Don't miss Bacolod's annual celebration, the Masskara Festival.
Meanwhile Aboy's restaurant focuses exclusively on Philippine cuisine from appetizers to main course to dessert such as lechon, Bicol express (a truly spicy dish, be prepared), inasal, puto bumbong and yema. Aboy's Restaurant also has a website if you'd want to see what else they have to offer.
If you're craving for Chinese food then you'll find a number of Chinese restaurants in the city, one of the most famous is Mei Wei seafood restaurant, with its traditional Chinese delicacies such as dimsum, noodles, asado pork, century eggs, and extensive seafood options cooked in a dozen ways.
L'Fisher is another notable restaurant which features local and foreign cuisine including a Swiss cheese fondue as an appetizer and local Philippine food favorites such as kare-kare, lechon (roasted pig) kawali, boneless bangus (milkfish)just to name a few.