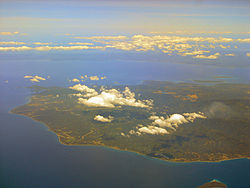 Marinduque is an island province located south of Quezon province in Luzon and east of Mindoro, another island province. It is known as the heart of the Philippines not only due to its location but because it is a heart-shaped island that can be found between Tayabas Bay and Sibuyan sea.
What to see
Marinduque's famous festival is the Moriones or Moryonan. It plays a significant part in the people's culture.
Moriones Festival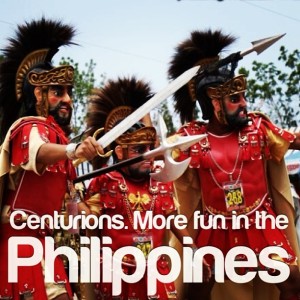 The Moriones Festival is celebrated during the month of March or April. It is a movable schedule depending on when the the Holy Week in the Lenten season falls. The festival is highlighted by the parade of inhabitants donned in Moryon costumes on a main road linking the towns of the province. A reenactment of the event where Longinus (known as a blind soldier) punctured Jesus on the cross, with his spear can be witnessed in the biggest towns of Boac and Sta. Cruz. The blood that flows from the wound of Jesus helped restore Longinus' eyesight.
Tourism is at its peak during the Lenten season and continues to grow through the years.. This is not only because of the warmth and hospitality of the residents that is distinctive of the Filipinos but also the experience of a real escapade and vacation.
The places that many foreign and local tourists visit and enjoy are the Bulusukan Falls in Buenavista, Hinulugan Falls in Torrijos, the Bitik Caves in Santa cruz, Tarug caves in Mogpog and the Marinduque Hot spring.
Bathala Cave
The Bathala Cave which is one of the few sanctuaries for wildlife houses phytons and human bones of those who died in World War II.
Bellarocca island resort and spa is located in an island just minutes by small boat or banca from the main island of Marinduque.
A beach resort called Chateau Du Mer also serves as a conference center in Boac.
How to get there
A roll-on-roll-off ship can be taken from Lucena, Quezon leading to Cawit Port after a bus trip from Buendia or Cubao terminal in Metro Manila.
Local jeepneys can be taken to get to your destinations within the province.
Zest air also flies directly to the island province.
Where to stay
The famous hotels in the island province are the Tahansa sa Isok in Boac, Seaview hotel in Brgy. Cawit in Boac and also the Boac Hotel. Eastpoint hotel by the sea is located in Brgy. Balaring while Hilltop hotel is in Brgy. Mataas na Bayan in Mogpog town.