Siquijor Island is the third smallest province in the Central Visayas region of the Philippines in terms of population and land area, and is an island known to be magical and mystical. During the Spanish period, the island was known as island of fire. The mystic traditions of the island have been the selling point for tourists to visit the place. The magic potions, sorcerers, witches, primitive healing rituals and shamans associated with Siquijor makes the trip of visitors in the island more exciting and enjoyable special for those spending the night in this place.
Siquijor is known as a coralline island and has plowed inland fields to which fossils of the giant clam or Tridacna can be seen. Multiple shells of a molluscan species living in the seas around Siquijor scatter on the hilltops.
How to get there
Another travel destinatiom, Siquijor island can be reached through an hour boat ride from Dumaguete city of Negros which is the province to which it is once part of. Siquijor is southeast from Cebu island and southwest from Bohol, two provinces which are also frequented by tourists. Climate in Siquijor is very tropical such that it is dry from January to May and wet on the other months of the year.
Where to go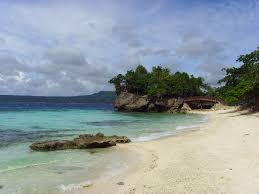 Siquijor Island boasts of white sand beaches stretching at a 102 kilometer coastline, its vast coral reels perfect for scuba diving and snorkeling, its hilly terrain consisting of amazing white rock formations and six very interesting caves. The most popular Cave in Siquijor is the Cantabon cave which is filled with tiny waterfalls, pools, stalactites and stalagmites. Rivers and springs combined with dense mangroves and virgin tropical forest define the beauty of the island perfect for trekking and spelunking.
Festival
Festivals celebrated in Siquijor feature the old healing sessions where incantations are recited while the old folks prepare potions out of herbs, insects, roots and tree barks.
Locals would also share stories about folk legends which tell about witchcraft and witches, how they exist and how they practice their craft in the island.