Wakeboarding is becoming a popular summer sports in the Philippines.
Camarines Sur has been elevated to one of the most renowned travel destinations in the country because of this new water sports craze.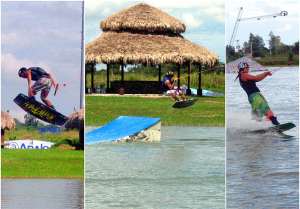 The province is located in Region 5 at the island of Luzon. It owes its rapid rise to tourism stardom to the Camarines Sur Watersports Complex or CWC which is known for its world-class wakeboarding facilities.
This new water sport activity has been supporting the recent promotional line of the Department of Tourism,"It's more fun in the Philippines".
Wakeboarding in CamSur Watersports Complex (CWC) is an exciting adventure in Philippine travel.
CWC is located in Pili right in the compound of the the Provincial Capitol and can be reached from Naga terminal via any ordinary bus heading to Legazpi at which the driver of the bus can drop you off at a jump point.
The bus ride will cost you P10. You can ride a tricycle or pedicab to CWC. Accommodations are available within the compound but most of them requires reservations especially during peak seasons.
Accommodation prices range from the high end villas of P6250 per day to as low as Php350 pesos for economy units and P1100 pesos for huts.
There is a Clubhouse Restaurant which serves Korean, Japanese, Filipino and Western dish as well as full bar for beer and tropical foods.
An hour in CWC costs P160 and you can also try knee boarding for a change when you need some rest or just want to relax in the water. There is also a half day rate of P370, a whole day rate of P610 from 8:30 a.m. to 5 p.m., and a night rate of P500 from 5 to 9 in the evening.
Equipment rental for life vest and helmet is at P40 per hour, P90 for half day or P140 persons for the whole day with a P500 deposit.
The complex is a six-hectare complex and also includes a 6-point cable ski system for cable skiing.
Wakeboarding can be tried in the Winch Park which also offers water skiing, wake skating and ride on water, as well as boat rides.
This could be complicated for a beginner. A trainer though is always available at the starting area and will always remind you to relax as you step on the wakeboard and before the cable pulls you out of the water. He will also remind you not to resist the pull of the cable so that you won't fall from the board and into the filthy waters. A beginner's cable is reserved for beginners.
Water sports adventure can be most enjoyed with your family or friends.