Subic is a municipality of the province of Zambales in the Luzon, Philippines. Like Olongapo City, it is considered a fast growing commercial area in Zambales.
It used to be the home of one of the largest US military bases outside mainland USA. The present Freeport Zone is the former US Naval Base. Now the site is where you find numerous tourist attractions such as casinos, beaches, parks, as well as diving and snorkeling spots, and jungle activities.
Where to go
The Subic Bay Freeport Zone (SBFZ) is a tax and duty-free zone operated and managed by the Subic Bay Metropolitan Authority or SBMA. The Freeport Zone includes the preserved and protected Bay. It has been known as as an economic hub where you can find the fourth largest shipbuilding facility in the world.
The surrounding forests and jungles including its diversified flora and fauna are also protected by the government.
Other interesting places to visit are resident eco-tourism parks such as the Ocean Adventure which is the country's only open-sea marine park, the Zoobic Safari and the Pamulaklakin Park where you can see the indigenous Aetas trained by the US Navy in jungle warfare.
Where to stay
The bay and Olongapo are both great summer destinations. A great number of beach resorts in the area offer calm waters, cool air and a lot of water sports activities to enjoy.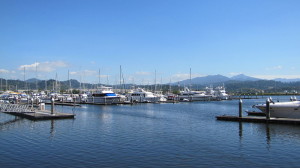 Resorts with affordable prices are the Arizona International Beach Resort and Seas Resort both in Barrio Baretto.
Upscale beach resorts and hotels within the freeport zone are the Camayan Beach resort, RK Hotel and the White Rock Water Park and Beach Resort with a private beach.
The Johan's Beach Resort and Dive Center is newly built along the bay.
The Vista Marina Hotel and Restaurant is located in the business district at the heart of the freeport zone.
How to get there
The bay can be reached through the North Luzon expressway and a new highway known as SCTEX through a two hour drive by either car or bus from Manila. Modes of transport within Olongapo are jeepneys and tricycles.