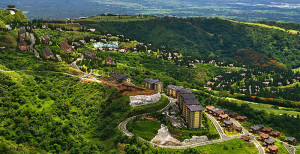 Let me take you to a summer capital in the Philippines, Tagaytay!
The scenic city is part of the province of Cavite in Luzon and is considered one of the most well known Philippine tourist destinations just near the Philippine capital city of Manila.
Although near Manila, it has a cooler climate due to its high altitude location while providing for an exquisite scenery overlooking the Taal Lake in the province of Batangas which is adjacent to the province of Cavite.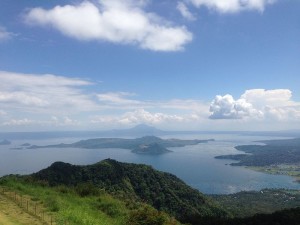 Taal volcano which is an active volcano is part of the outstanding scenery since it is located at the middle of Taal Lake and can be mesmerized from different vantage points from the city.
The climate is described to be subtropical-like with a relatively low temperature as well as low humidity and with abundant rainfall which sums to an invigorating climate and temperature that averages 22 degrees Centigrade. The city is sometimes misty due to its high elevation while being at its coldest in the months of December to February. Its cool climate is a magnet for a lot of visitors particularly those from Metro Manila and nearby provinces.
How to get there
This Philippine tourist destination can be reached through a one hour and 15 minute drive from the city Manila through the South Luzon expressway at the Santa Rosa exit then into the Santa Rosa-Tagaytay road. It can also be reached through the Coastal Road Expressway, then through the highway. Multiple bus liners ply the route leading to the city from Manila daily.
Where to go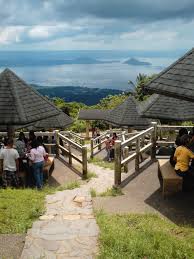 One of the many places that is worth visiting is the Picnic Grove. It serves as playground ideal as a family vacation spot. It is also a popular park large enough for a lot of people to enjoy horseback riding, a zipline and cable cars, eco-trail boardwalking and picnicking. There are numerous huts and tables for picnicking while a restaurant also awaits those without packed food. The Picnic Grove provides the best and finest view for the Taal Volcano and is located in Barangay Sungay East.
This summer capital is also known as the Sky City and also boasts of strips of fancy restaurants and bars which provide exciting nightlife to the city. The bars and restaurants provide varied cuisine as well as entertainment which tourists will surely enjoy. Some of the famous establishments along this strip is Dencio's grill, Starbacks coffee, Cliffhouse, Antonio's grill, Max's restaurant, Leslies to name a few.
For any travel inquiry or issues encountered, you can contact the local tourism office.
Tagaytay Local Tourism
Ms. Leilani Diesta
City Hall Building
Kaybagal South, Tagaytay City 4120
Cavite Province, Philippines
Phone: +63 46 4131-220 loc.320