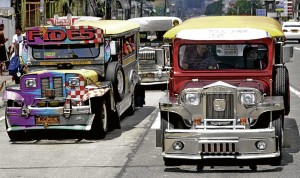 Philippine jeepneys are to the Philippines, as the chicken bus is to Guatemala, as the rickshaw is to Japan or the tuk-tuk is to Thailand. There are other means of getting around the cities but the jeeps are the most convenient public transportation.
There are, of course, other means of getting around the cities. But the jeeps are the most convenient public transportation.
One image which other nationals carry with them when they first visit the Philippines is the countless jeepneys that roam the roads and streets. They are also called jeeps which are adaptations of the very first US Army vehicle during the Second World War.
Nowadays, they come in a variety of sizes, shapes, and colors.
A jeepney's uniqueness is not only based on its exterior, but also its interior, which is often is an expression of the driver's or operator's imagination, preference and, more often than not, budget.
Jeepneys are now a part of the Philippine culture and are a great way to travel around the Philippine cities, especially Metro Manila, and get immersed in the local culture while traveling in the Philippines.
Traveling around on a jeepney
In Metro Manila and other cities, jeepneys are one of the most popular means of public transportation in the city. This is basically because it's cheap and there are routes going to nearly all the nooks and crannies of the sprawling metropolis.
Since there is no actual government regulation on jeeps, each one is unique from each other.
How do you know which jeep to take? The only way to identify one jeep from the other is the small signboard located on the windshield. This helps passengers to see where a particular jeep is going.
Jeepney etiquette
The lack of regulation when it comes to jeepneys results in this public transportation having different sizes and seating capacity.
The seating arrangement is similar to two park benches facing each other. There are smaller jeeps which can sit only 10 to 12 (5 to 6 persons per side based on individual size) passengers. Larger jeepneys can sit somewhere around 15-18 passengers per side.
Remember when riding a jeep, the driver will try to squeeze as many people as physically possible into the vehicle no matter how uncomfortable the other passengers get. So don't be surprised if you find yourself with half of you leaning forward to make room for more people.
Also, jeepneys have notoriously low ceilings. So if you're around 6ft tall, you might have to fold yourself in half just to fit.
Smoking in the jeeps is not allowed. Not only is it an inconvenience to other passengers but it's also against the law to smoke in public vehicles under the Philippine Clean Air Act.
Jeepney fare
How much is the jeep fare?
Jeepney fare is based on the price of gasoline and the mood of jeep operators and drivers to hold protest rallies.
At present, a regular jeep ride of 5KM will just cost you 8.00 pesos, and an additional one peso for every 2 kilometers. Be sure to bring coins when riding a jeep. If you're unsure of how much to pay, just tell the driver where you're going so he can tell you the fare for the particular area.
If you're unsure of how much to pay, just tell the driver where you're going so he can tell you the fare for the particular area.
When riding a jeep, it's advisable to carry smaller bills. P 20 and P50 bills are acceptable, while 100, 200, 500 and 1,000 peso bills are a definite no-go for jeeps. In the morning, try to bring coins, as most drivers don't have a change in the morning.
Paying your jeepney fare
You'll notice that most jeeps have only the driver and no conductor. So don't be alarmed if a fellow passenger volunteers to pass your fare on to the driver.
Similarly, if you see people passing the fare on, try to help out as well. People will appreciate it for sure and you'll probably get a smile for your trouble.
If you want to pay your jeep fare you say, "Bayad po" (pronounced Bah-yahd poh), which translates to, "Here is my fare", and a helpful passenger will bring your payment to the driver.
Don't be afraid to ask
The routes of jeeps are pretty confusing. There are literally hundreds of routes in Metro Manila alone, and thousands of jeeps to choose from.
There's no single map or guide on how to go about it so local knowledge is to keep using the jeepney system as a public transportation.
If you don't know where to go off, you can politely ask the nearest police officer or traffic enforcer. They can tell you where you should get off and even which other jeeps to take to get to where you're going. Of course, it would help, too, if you have the address of your travel destinations written down.
Jeeps are used by everyone in the Metro Manila, but there are still some things you should keep in mind when traveling in the Philippines on a jeepney.
Keep your money separate and just bring out coins or small bills.
Similarly, keep your mobile phones, if you have them, tucked away and do not bring them out. Mobile phones are a hot commodity and there are thieves who can just grab your phone and run in the middle of a traffic jam.
Be aware of your surroundings and who you're sitting next to and keep your bag in front of you at all times.
Try not complain to the driver about how he drives or how he stops in the middle of the road to load and unload passengers — that's just how they do it!
Lastly, do not to take the jeepneys at night, meaning past 8 PM or 9 PM because many cities have its fair share of muggers and thieves who prowl the streets more especially at night.
Manila and other cities in the Philippines are alive almost 24 hours a day and in the mornings and afternoons. And the jeepneys are a great way to see and feel the pulse and life of this city of 13 million souls.
Just keep in mind that politeness goes a long way, and since most people speak English, they can understand and will give you directions if you're lost.
Aside from the Philippine jeepneys, there are also a number of other means of public transportation around the city ( like the taxis, lrt and mrt), but that's for another time and another article.